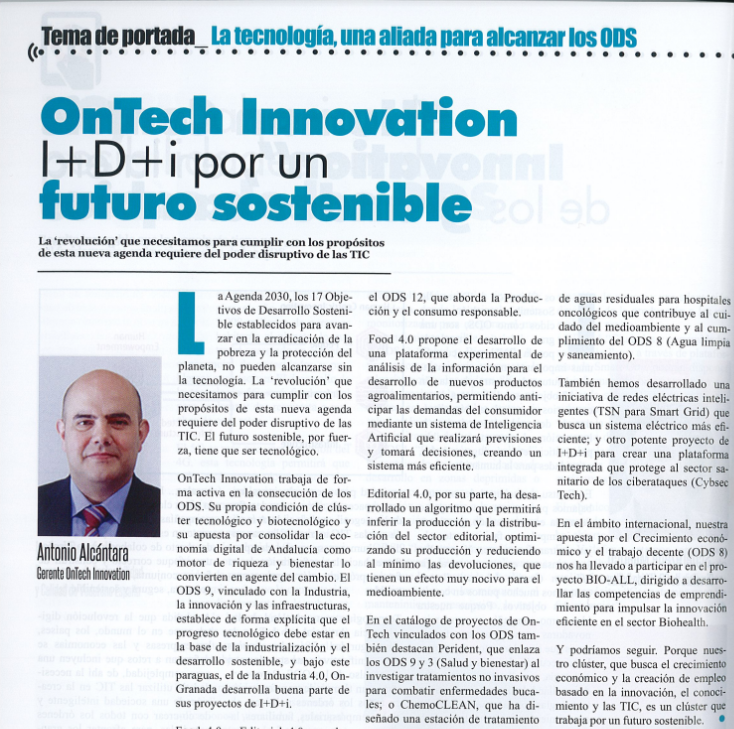 25 Jul

BIO-ALL project highlighted in the "Agenda de la Empresa" magazine

Our Spanish partner OnGranada, published an article about sustainable future and their initiatives related to the United Nations Sustainable Development Goals.

The latest edition of the Spanish magazine "Agenda de la Empresa" includes a dedicated article emphasizing the role of technology to reach the United Nations Sustainable Development Goals. This initiative comprises 17 goals, representing a worldwide call for action to promote prosperity while protecting the planet, based on strategies that can build economic growth tackling climate change and environmental protection while addressing a range of social needs including education, health, social protection, and job opportunities.

The article presents a range of initiatives that OnGranada is leading and supporting at regional/national levels and at an international level as well. In this context the BIO-ALL project is referred as a project directly related to the Sustainable Development Goal 8 "Promote sustained, inclusive and sustainable economic growth, full and productive employment and decent work for all" as it aims to foster the development of entrepreneurial skills and environments to better support innovation processes in the health sector.

The full article, in Spanish, is accessible here.
To learn more about the BIOALL project or if you would like to know how to participate in the project activities or have access to the resources produced, you can do so by contacting Pedro Costa through the email pedro.costa@inova.business